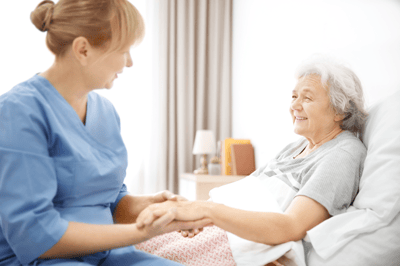 What is Live-In Care?
A live-in care provider is a trained health care worker who remains with a client for 24 hours per day. Live-in care is an alternative to placement in independent and assisted living or nursing home settings.
What Does a Live-In Caregiver Do?
The caregiver follows a custom-designed plan of care that accommodates the established routines and personal care needs of their client. The caregiver will work hand in hand with the care management team, the client and the client's family, and performs tasks such as bathing, dressing, grooming, healthy meal preparation, light housekeeping, offering reminders to take medications as prescribed, and providing overnight support, among other responsibilities.
Choosing the Right Live-In Caregiver
Whether live-in care is temporary (following surgery, for example) or long-term, to help manage ongoing healthcare concerns, choosing the right care provider is essential. Premier has designed a "Preferences" tool which engages the client in establishing their preferences for normal daily living routines that are important to maintain, such as where the client prefers to eat breakfast (at the kitchen table or elsewhere), or at what time to run the dishwasher, as examples. Maintaining the client's preferred routine greatly influences their willingness to accept service and their overall satisfaction. Caregivers are oriented to the client's customized care plan and preferences at the outset, as well as for ongoing service by one of our registered nurses (RNs).
Premier Home Health Care Services, Inc. is a leading provider of live-in care. If you'd like to learn more about our professional live-in care, please contact us at 1-866-263-5118. One of our care consultants will be happy to assist you.
Note: Services available in New York, New Jersey, Massachusetts, Florida, Illinois, North Carolina, and Connecticut.
Services are provided under the direct supervision of a registered nurse.