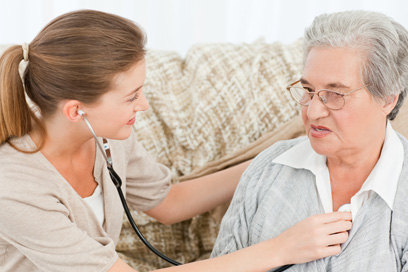 Depression is not an age-related illness. However, statistically it occurs in high numbers among the elderly, particularly for those struggling with health issues that limit their independence, ability to socialize, and overall functioning.
Factors that can contribute to feelings of depression include:
Feelings of isolation
Limited mobility
Financial hardship
Chronic medical conditions
Thoughts of impending mortality
Difficulty transitioning from work to retirement
As with all cases of depression, receiving the proper care is crucial to recovering – and this is exactly what Premier Home Health Care Services, Inc. offers our clients.
How is Elderly Depression Treated?
Helping clients who suffer from geriatric depression is usually a multi-faceted, inter-disciplinary process that involves a combination of medications, therapy, and lifestyle changes. For instance, the client's physician may prescribe certain anti-depressant medications, while Premier's caretakers assist the client in making the necessary changes to their lifestyle that can help them combat their depression. These changes can include:
Engaging in a new hobby or interest
Exercising daily
Getting enough sleep
Eating a well-balanced diet
Enjoying regular visits with family and friends
At Premier, our personal care aides and caretakers undergo extensive training before they can be assigned to help clients who have depression. This enables our workers to provide the most comprehensive care possible, while also being a valuable source of information and counsel to our client's family.
Give Premier Home Health Care Services a call today at 1-866-263-5118 to learn more.
Note: Services available in New York, New Jersey, Massachusetts, Florida, Illinois, North Carolina, and Connecticut.
Services are provided under the direct supervision of a registered nurse.