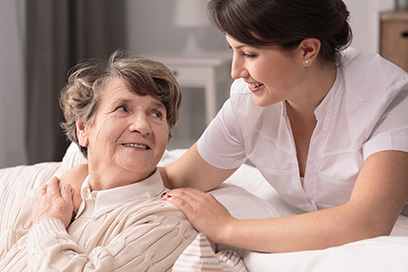 How In-Home Parkinson's Disease Care Can Help
Parkinson's disease affects each person who suffers from this condition differently. Every client needs a customized plan of treatment and care, and it is difficult for a standard in-home care provider to meet the unique needs of each client.
At Premier Home Health Care Services, Inc., however, our caregivers undergo extensive specialized training for helping someone who has Parkinson's. As a result, our aides have a more complete understanding of the disease, its impact, and what type of care is needed.
Our caregivers not only assist and reinforce essential therapies, but they also assist with homemaking tasks, cognitive stimulation, personal care, ambulatory assistance, toileting medication reminders, and a host of other tasks and responsibilities. Depending on the individual need, occupational and physical therapy, or skilled nursing, may also be applied.
Premier Home Health Care Services, Inc., offers disease-specific Private Pay solutions that include over-night care, medical escort, and live-in care. These solutions can assist families when caring for a loved one with Parkinson's disease.
To learn more, please call us today 1-866-263-5118. One of care consultants will be more than happy to assist you.
Note: Services available in New York, New Jersey, Massachusetts, Florida, Illinois, North Carolina, and Connecticut.
Services are provided under the direct supervision of a registered nurse.