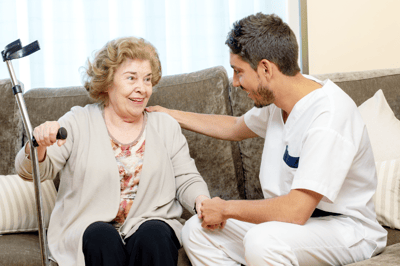 Recovering from a hip or knee replacement can be a challenge. This type of surgery can be quite intensive and the recovery time can be lengthy.
Premier Home Health Care Services, Inc. offers knee and hip replacement patients the option to recover in the comfort and security of their own homes. A specially-trained caregiver will be on hand to help with improving basic mobility that includes standing, sitting, and moving from room to room. The caregiver can also help with daily tasks (such as grooming).
The Challenges of Post-Knee Surgery Care
The recovery time and practice of exercises necessary for rebuilding strength are only two of the challenges many face after undergoing a knee or hip replacement. For many, the loss of independence during recovery time can be frustrating. Premier provides extensive specialty training to our caregivers so that they can better understand the needs of post-surgical clients and help them recover from surgery faster.
Premier's compassionate caregiver can assist with tasks including, but not limited to:
Basic household tasks
Light housekeeping
Meal preparation
Medication management and administration
Companionship and support
Personal care assistance
The quality of care received after surgery is crucial to the quality and speed of recovery. Premier offers in-home skilled nursing, physical and occupational therapy, in select markets to aid you in your recovery.
To learn more, about our in-home therapy and personal care options, please call us today 1-866-263-5118. One of our compassionate representatives will be more than happy to assist you.
Note: Services available in New York, New Jersey, Massachusetts, Florida, Illinois, North Carolina, and Connecticut.
Services are provided under the direct supervision of a registered nurse.