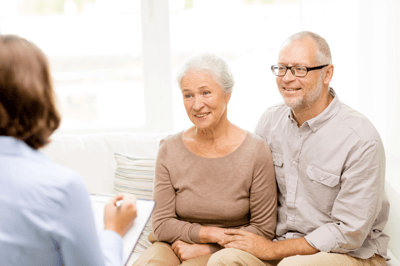 If you or a loved one is age 65 or older, there are several local and national programs available that can help you get the assistance you need to live a safer and more independent lifestyle. But finding such programs and services can be challenging. This is where a social worker or geriatric care manager can be a tremendous asset.
What Does a Social Worker for the Elderly Do?
Social workers and geriatric care managers specialize in finding ways to improve the quality of life for seniors, helping them to discover and utilize a variety of solutions and social services. This professional also helps protect clients from those who might try to take advantage of their age-related vulnerabilities.
Social workers and geriatric care managers help seniors apply for public and private programs, including in-home assistance services, food delivery services, funding programs for elderly care, transportation, living will services, and more. They also provide counseling services for families who are trying to cope with end-of-life issues and other difficult topics.
One of the most valuable ways social workers and geriatric care managers can help is to serve as an advocate. They help protect clients against the growing risks of financial fraud scams that target seniors, and they can also serve as their first line of defense against elder abuse.
How Social Workers and Geriatric Care Managers Can Help Strengthen Families
Being a caretaker for a family member can be rewarding, but it is certainly not without challenges. With the services and they right support, a family benefits from the opportunity for clients to remain in their homes longer.
To learn more about our service, please call Premier Home Health Care Services, Inc. today at 1-866-263-5118. A care consultant will be happy to assist you.