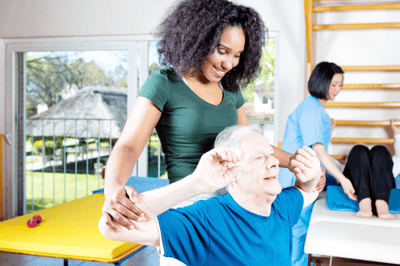 Seniors, recovering from surgery, ulcers, or an injury can be difficult. As we age, wounds take longer to heal and, as a result, muscle atrophy can set in. Targeted elderly physical therapy (PT) and rehabilitation techniques should be applied as soon as possible after surgery. At Premier Home Health Care Services, Inc., we offer home-based physical therapy for seniors, allowing our clients to maintain independence and to perform daily activities in a setting that is both comfortable and familiar.
How Physical Therapy Helps Recovery
The main goal of PT is to help a client make a return to maximum physical functioning. At Premier, our highly-trained physical therapists work with our clients to help them improve their strength and balance, prevent further loss of mobility, and improve overall fitness and wellness. This is accomplished through the targeted administration of age and condition-appropriate exercises and stretches, in addition to the following:
Massage therapy
Cold and/or heat therapy
Electrical stimulation
Why are Elderly Physical Therapy and Rehabilitation So Important?
Pain, and a general loss of physical ability, can diminish independence, which in turn can lead to feelings of depression that can cause a decline in overall health and wellness. But with the administration of proper rehabilitation techniques, pain can be relieved and physical functions such as flexibility, strength, balance, and coordination can be restored.
When is Physical Therapy Needed?
Physical therapy often plays a pivotal role in a senior's rate of recovery after they suffer an injury or undergo a surgical procedure, like a hip or knee replacement. But these aren't the only times when rehabilitation helps improve an elderly individual's health. Physical therapy should always be considered if a senior should experience:
A fall
A loss of balance/difficulty walking
Joint pain
Back pain
A stroke
A heart attack or heart failure
Any noticeable decline in physical function
If someone you love could benefit from physical therapy and rehabilitation, call us today at 1-866-675-6807. We provide highly effective in-home rehabilitation and PT services for seniors in New York City.