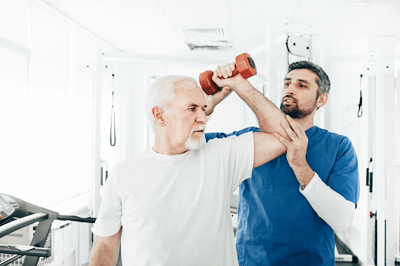 Occupational therapy for seniors is specifically designed to help improve the quality of life for senior citizens in a variety of ways by helping them incorporate meaningful activities into their daily lives. At Premier Home Health Care Services, Inc., we offer occupational rehabilitation services for these clients in the comfort of their own homes.
Our expertly-trained therapists can help seniors with disabilities learn how to manage their day-to-day activities and teach them tactics such as:
Ways to protect their joints
How to use adaptive equipment
How to put on and remove a prosthesis
If poor vision is an issue, how to avoid glare and increase color contrast
Ways to enhance memory as well as organizational tips
How to work around functional limitations during activities of daily living
How Does Occupational Rehabilitation Differ from Physical Therapy?
Physical therapy helps clients regain strength and functional capabilities after a surgery, illness, or injury. Occupational therapy is designed to help clients regain independence with activities of daily living that include dressing, bathing, and meal preparation. Our occupational therapists assess and adapt the home for the client's safety, educate caregivers, and provide functional limitation solutions which maximize independence.
Benefits of Occupational Therapy
For seniors, occupational therapy enables social engagement and benefits overall well-being. It helps seniors improve:
Daily life skills
Education
Environment
Health
Life transitions
Cognitive and memory faculties
Interested in learning more about occupational therapy and rehabilitation? Call Premier Home Health Care Services today at 1-866-675-6807. We provide highly effective in-home rehabilitation and OT services for seniors in New York City.